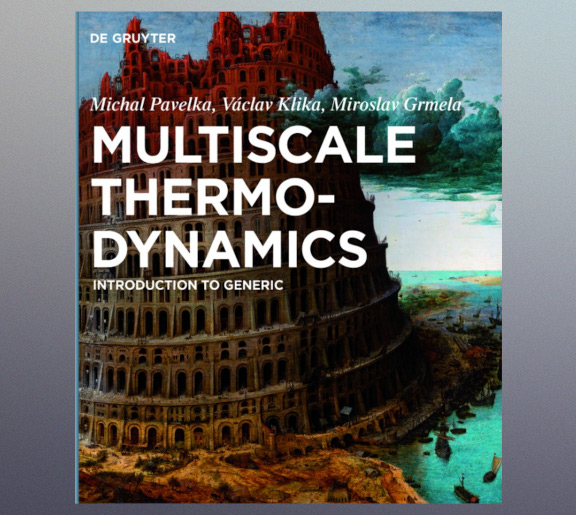 Thermodynamic analysis of diamond manufacturing. SHM, Czech Republic
Particle motion in electromagnetic field of a coating machine. SHM, Czech Republic
Supervision of student-industry collaboration: Determination of frequency stability of experimental data, SHM Šumperk, Czech Republic
Matematický model pro účely predikce terapie virových onemocnění ve specifickém komerčním modelu biokompatibilních sférických nanoterapeutik
Preprints:

Abdellah Ajji, Jamal Chaouki, Miroslav Grmela, Vaclav Klika, Michal Pavelka, Fluctuating Multiscale Mass Action Law, arXiv:2103.11004, 2021
Petr Pelech, Karel Tůma, Michal Pavelka, Martin Šípka, Martin Sýkora, On compatibility of the Natural configuration framework with GENERIC: Derivation of anisotropic rate-type models, arxiv: 2010.06903, submitted

2021:

Ondřej Kincl, Michal Pavelka, František Maršík and Miroslav Sedláček, Theoretical analysis of rolling fluid turbines, Accepted to SIAM Journal on Applied Mathematics, 2021.
Ondřej Kincl, Michal Pavelka, František Maršík and Miroslav Sedláček, How Sedláček's Bladeless Turbine Works?, In Proceedings Topical Problems of Fluid Mechanics 2021, Prague, 2021, Edited by Tomáš Bodnár, Tomáš Neustupa and David Šimurda, pp. 70-78
M. Szücs, M. Pavelka, R. Kovács, T. Fülöp, P. Ván, and M. Grmela. A case study of non-Fourier heat conduction using internal variables and GENERIC. Journal of Non-Equilibrium Thermodynamics, vol. , no. , 2021, pp. 000010151520210022.
O. Outrata, M. Pavelka, J. Hron, M. La Mantia, J.I. Polanco, G. Krstulovic, On the determination of vortex ring vorticity using Lagrangian particles, Accepted to Journal of Fluid Mechanics, 2021
Francisco Chinesta, Elias Cueto, Miroslav Grmela, Beatriz Moya, Michal Pavelka, Martin Šípka Learning Physics from Data: a Thermodynamic Interpretation, chapter in Geometric Structures of Statistical Physics, Information Geometry, and Learning (SPIGL'20, Les Houches, France, July 27–31, Eds. Frédéric Barbaresco & Frank Nielsen, Springer Proceedings in Mathematics & Statistics, v. 361, 2021, Springer)

Diego del Olmo, Michal Pavelka, Juraj Kosek, Open-circuit voltage comes from non-equilibrium thermodynamics, Journal of Non-Equilibrium Thermodynamics 46(1), 91-108, 2021.
Petr Vágner, Michal Pavelka and Ogul Esen, Multiscale thermodynamics of charged mixtures, Continuum Mechanics and Thermodynamics 33, 237-268 (2021).
2020:
2019:
2018:
2017:
Václav Klika, Jan Kubant, Michal Pavelka, Jay B. Benziger, Non-equilibrium thermodynamic model of water sorption in Nafion membranes, Journal of Membrane Science 540 (2017) 35-49
Klika, V., Pavelka, M. and Benziger, J., Functional constraints on phenomenological coefficients, Phys. Rev. E 95 (2017), 022125
Grmela, M., Hong, L., Jou, D., Lebon, G. and Pavelka, M., Hamiltonian and Godunov Structures of the Grad Hierarchy, Phys. Rev. E 95 (2017), 033121
Esen, O., Pavelka, M. and Grmela, M., Hamiltonian coupling of electromagnetic field and matter, International Journal of Advances in Engineering Sciences and Applied Mathematics (2017) 9(1):3-20
Vágner, P., Pavelka, M., Maršík, F., Pitfalls of exergy analysis, Journal of Non-Equilibrium Thermodynamics (2017), 42 (2)
Ván, P., Pavelka, M. and Grmela, M., Extra mass flux in fluid mechanics, Journal of Non-Equilibrium Thermodynamics (2017), 42 (2)
2016:
Pavelka, M., Klika, V., Esen, O. and Grmela, M., A hierarchy of Poisson brackets in non-equilibrium thermodynamics, arXiv:1512.08010, Physica D: Nonlinear Phenomena 335 (2016), pages 54–69
2015:
Grmela, M., Klika, V. and Pavelka, M., Reductions and Extensions in mesoscopic dynamics, Phys. Rev. E 92 (2015), 032111
Benziger, J. B., Cheah, M. J., Klika, V. and Pavelka, M., Interfacial constraints on water and proton transport across nafion membranes, J. Polym. Sci. Part B, July 2015
Pavelka, M., Wandschneider, F. and Mazur, P., Thermodynamic derivation of open circuit voltage in vanadium redox flow batteries, J. Power Sources (293), 2015, 400-408
2014:
Pavelka, M., Klika, V. and Grmela, M., Time-reversal in nonequilibrium thermodynamics, Phys. Rev. E 90 (2014), 062131
Pavelka, M., Klika, V., Vágner, P., Maršík, F., Generalization of Exergy Analysis, Applied Energy 137 (2015), pp. 158-172
Pavelka, M., Maršík, F., Klika, V., Consistent theory of mixtures on different levels of description, Int. J. Eng. Sci. 78C (2014), pp. 192-217
2013: